Halloween Backdrops
Why people love to make Halloween backdrops
Have you noticed that Halloween isn't just for kids anymore? It can be a great night for the whole family. If you are throwing a party then Halloween Backdrops is a sure fire way to get both adults and kids excited about Halloween. Whether you are a seasoned photographer or a proud parent who just wants to take the best Halloween pictures, making your own Halloween-themed backdrop is simple and fun. Add it to the pumpkin carving and costume selection days to bring even more fun to the holidays. These custom backdrops also make great Halloween party decorations, and can be used year after year.
If you are in search of Backdrops for a memorable event, then you have come to the right place for beautiful backdrops. BackdropsBeautiful.com carries an amazing selection of quality backdrops at affordable price, quick and easy to install backdrops, fire retardant backdrops certified and hand painted backdrops for every delight occasion. We have an unique artistic backdrops selection available for sale and rental. We offer Door-to-Door delivery of backdrops to any location, worldwide! Please call Backdrops Beautiful TOLL FREE: 1-866-622-5842 to inquire about current promotions like one-way free shipping and other discounts on backdrops.
Fall Harvest Halloween Backdrops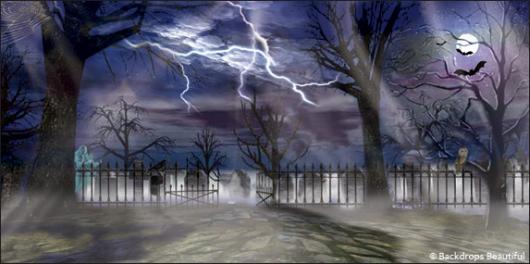 Graveyard Halloween Backdrops
Our Categories include: backdrops, staging backdrops, wedding backdrops, scenic backdrops, western backdrops, theatrical backdrops, stage backdrops, Mardi Gras street scene backdrops, party backdrops, theater backdrops, event backdrops, theme backdrops, celebration backdrops, Christmas backdrops, holiday backdrops